Facilities
We have all the facilities you need to make your 48 Hour Weekender feel like a home away from home. From our Nisa Local Shop to kit you out for all of your self catering needs, to our Queen Victoria Pub where you can order a hot meal and a pint! Or if you fancy a hot breakfast made for you after your night of partying you can purchase one as well, no trouble.
You have all the options, from self catering to half board, eating in or eating out. With each apartment you get self catering facilities with a range of appliances from a kettle to fridge.
Catering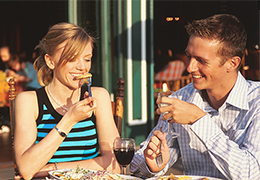 Self Catering
With our self catering option you can have the flexibility of using our fantastic Restaurants and food outlets with the ability to prepare and cook your meals in the comfort of your own Apartment. Don't fill the car with the family shopping, take the easy option and visit our very own Nisa Local convenience store for all your essentials. Enjoy fresh, quality foods, wines, beers and of course a few treats for the kids.
Half Board
Forget the hassle of cooking and just relax – let our trained chefs prepare for you a choice of traditional English or international dishes. From a hearty 'all you can eat' breakfast to a delicious evening meal everyday – not just at the weekend!
Individual Meals
You can always purchase meals independently whenever you want(during meal times of course) the Queen Victoria Restaurant has the option of and all you can eat breakfast from £4.95 at Southport, and £5.95 at Camber Sands. There is also a 3 course meal available from £7.00 at Southport, and £8.95 at Camber Sands.
Food, Beverage and The Queen Victoria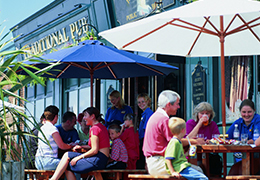 The Queen Vic Pub
The Queen Vic Pub is perfect if you feel like a friendly pint and some great pub grub? Pull up a seat at the Queen Vic and enjoy a traditional English pub with great beer, food and wine at reasonable prices. The Vic has seating inside and outside. Happy hour is daily from 5-7pm!
On Park Food and Beverages Facilities:
At Southport try out the The Ice Cream Hut with a great selection of ice creams and more, you can also order coffee and teas at the bars which include The Queen Vic, Lunars Bar and The Fun Factory Bar.
New for this year – Cocktail corner has now arrived at The Queen Vic. Try something exsotic like a Ruby Cooler, be fresh with a Mojito or stay safe with a Gin & Tonic – which one will be your Favourite?
We have loads of options at Southport, from Captain Cod's fish and chips or why not choose from a wide selection of other choices on the menu. Look out for our outdoor barbecue, cheese burgers with salad, mayo and relish etc. It's a build your own situation and very reasonable (Available in good weather!)
And at Camber Sands we have many fast food options to choose from, including Margherita pizza at Mama's Pizza or Casey's Whistle Stop with a selection of American style food; SFC chicken, fries, burgers and more. Stop by The Ice Cream Hut for for some traditional ice cream and lollies.
Shopping and Groceries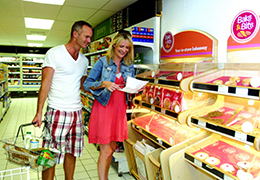 Nisa Local
Nisa Local is the convenience store situated right on the park, it's really handy for all your shopping whether last minute or a full stock up. The store sells day to day groceries as well as many other items including:
Health and beauty
Fresh bread
Fresh milk
Confectionery
Chilled food
Newspapers
Frozen food
Ice lollies
Alcohol
Tobacconist
Lottery